Benny, our guide on Ile aux Aigrette, introduces us to a large tortoise. "This tortoise is the alpha male. His name is Big Daddy. Watch out for him. He's aggressive and bites."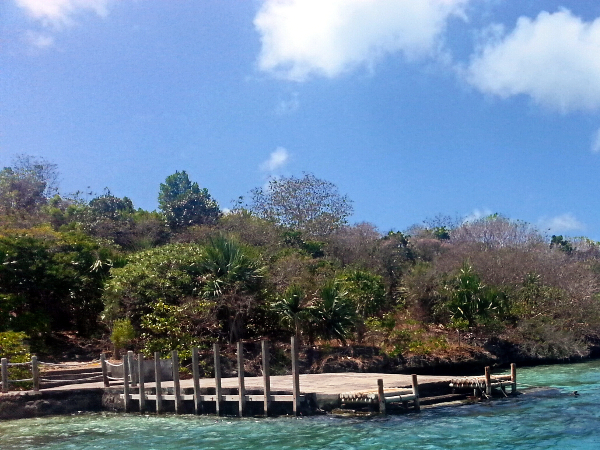 October 25, 2014
Okay, good to know. I'm pretty confident I can outrun him if he comes after me. Lori, too. I mean, she can also outrun the tortoise.
Then Benny adds, "Big Daddy likes to be scratched under his chin. You want to try?"
"You just said he bites."
"Oh, it's still early in the morning and the tortoises aren't warmed up enough to be moving around much." Right, reptiles. I scratch Big Daddy under the chin. Maybe he likes it. How do you tell what a tortoise likes? Well, this one doesn't pull away or bite.
Benny continues describing how tortoise shells are not hard and dead, but contain nerve endings and are sensitive to touch. He says they like to have their shells rubbed as well. Then he tells us about the Aldabra Giant Tortoises that are on the islet. They were imported to replace the ecological role once held by the extinct saddle-backed Mauritian giant tortoise and domed Mauritius giant tortoise.
Ile Aux Aigrettes
We almost didn't make it to Ile aux Aigrettes (Island of Egrets). After breakfast that morning, we went to Chantauvent Guest House's front desk where we're staying to inquire about things to do around Blue Bay. We were handed a notebook collection of fliers for what to see and do. What about Maison Eureka? Not possible for today, you need a reservation one or two days ahead. What about Ile aux Aigrettes? You also need a reservation a day ahead. Will you call and check if they can take the two of us today? He calls. Yes, they can take you, but you have to leave right now. Okay, we're off. Oh, and please call Maison Eureka and make a reservation for us for tomorrow.
Lesson learned. There are limits to outline travel planning and flexibility.
A short but rather expensive taxi ride got us to Ile aux Aigrettes' visitor station and a dock at Pointe Jerome. We were in time. Actually, we were on island time. The hurry because "you have to leave now" was exaggerated. We waited about a half hour before the tour left.
The islet lies less than a kilometer out from Pointe Jerome across Mahébourg Bay. Motor boating there took just a little over 5 minutes. While Mauritius island was formed from volcanic activity, Ile aux Aigrette is coralline limestone (sedimentary rock composed of skeletal fragments of coral) and is a small 27 hectares (about 66 acres) in size and just 13 meters (about 43 feet) above sea level at its highest point.
A Sad Tale
As we walk the Dodo Trail, I appreciate that it's fairly flat because it's also very hot even if the tortoises aren't warm yet. I also appreciate Benny's tale about Mauritian natural history mirrored here. It's not a pretty tale.
Arab and Malay sailors knew of Mauritius. Whether they went ashore is not known. Portuguese explorers were the first people who recorded having going ashore (1507-1513). The Dutch started using Mauritius as a stopover and to resupply their ships beginning in 1598 and established a settlement there in 1638.
They hunted the giant tortoises to excess for meat and oil rendered from their fat. Apparently, sailors found the giant tortoise to be one of the most delicious things they'd ever eaten. They cut down the forests, mostly for ebony. They brought animals with them — pigs, dogs, cats, rats, and macaque monkeys – that overwhelmed the native wildlife.
In just 150 years after people arrived, the dodo, a large, flightless pigeon and the present day Mauritian mascot was extinct. Likewise, in just another 80 years, the Mauritius giant tortoises were extinct. Today, only 2% of the native forest remains on Mauritius. What, really, was at the heart of this? Indifference, avarice, convenience?
Turning the Tide
In 1965, Ile aux Aigrettes was declared a nature reserve. Beginning in 1985, Mauritian Wildlife Foundation's intense conservation efforts on the islet have resulted in the restoration of dry coastal forest that was once found around most of Mauritius. Today, Ile aux Aigrettes looks like what coastal Mauritius looked like 400 years ago before the arrival of people.
At least on this small islet, the tide has been turned. Giant tortoises have been rewilded. Pink pigeons, Teflair's skinks, Olive White-eyes (a bird), ebony, latanier bleu palm, and other rare and endangered natives now find a safe haven.