Another year. Another birthday. Nothing special about either after so many of both. This year is a combo birthday event for Lori and I, and we're celebrating with friends Eric and Shuqing in Manambato.
Manambato (maw-nawm-baw-too) is fun to say. It's right up there with mitsangatsangana (mit-chawn-gah-chawn-gah-nah). My pronunciation guides in the parentheses are suppose to help readers. Sometimes I wonder how the people who write pronunciations for dictionaries figure it out but not enough to look up how to do it correctly. I just make them up.
I don't know what Manambato means. I should ask. But mitsangatsangana means to go on a walk, to promenade, and to go out.
Manambato
Manambato lies on the southwest shore of Lake Rasoabe on the east coast of Madagascar. The draw for visitors are the white sand beaches and safer swimming compared to the nearby ocean. The village is about 97 kilometers (60 miles) south of Tamatave – 90 kilometers on the paved Route National 2, and seven kilometers on a dirt road. If coming from Antananarivo, the village is 18 kilometers from Brickaville (also known as Ampasimanolotra) – 11 kilometers on RN 2, and then seven kilometers on the dirt road.
Some people get to Manambato by taxi-brousse (private, minivan to van sized transportation) on RN 2, then walk the final seven kilometers. We are taking Eric and Shuqing's 4-wheel drive truck. It's been raining and we've heard the road gets very muddy. Also, we've been told the bridge across the small river near town is out.
You can also get to Manambato by boat on the Pangalenes Canal from Tamatave. I'll have to try that option another time.
Les Acacias Bungalows
Our drive is fairly uneventful. We pass a vazaha couple walking the dirt road carrying heavy packs. We stop. They're from Belgium and are taking the taxi-brousse and walk to Manambato route. We're full up. Five people in the cab, and our packs and Jemma in her travel crate in the back (the truck has a canopy). Yes, the dog gets to go on this trip. We offer to take their packs now and come back for them after dropping people and luggage off at Les Acacias Bungalows. They agree.
The road is passable although rocky, potholed, and a bumpy ride. The bridge over the river is broken and quite rickety. It definitely doesn't look like it would hold the weight of a car. Fortunately, there's a bypass through the river where rock has been poured so vehicles don't sink into the mud in the river bed.
After checking into Les Acacias Bungalows, our lodging for the weekend, the Belgians walk in. They must walk fast when not loaded down, or maybe they got a ride. They retrieve their packs and are on their way.
Les Acacias consists of a restaurant, chalet-style A-frame bungalows nearby, an outdoor dining area under a huge tree, and our bungalows up the hill. Our bungalow is rustic. The floor is not level, the windows don't shut all the way and don't have screens to keep the bugs out, the toilet seems like it wants to fall over, and light brown water runs out of the tap. But the bed has a good bug net over it and the price is quite reasonable.
We walk on the beach, swim the dog, and teach Eric and Shuqing how to play the card game Spades.
The Beach
In the morning after breakfast, we walk on the beach again.
Children are playing in the lake. Jemma scares them at first then makes friends. They're amazed to meet a dog that swims after sticks thrown in the lake and then brings them back to you.
There are other things in the lake, too. Geese. People bathing. Really, with soap and shampoo. And women washing dishes.
We stop at Chez Luigi's, another bungalow resort, for lunch. The mérou (grouper) fish brochette from the mornings catch is quite good.
After lunch, we continue our walk as far south as we can go, then follow a sandy track into the village and walk the main village road back to Les Acacias. Jemma causes a stir everywhere we go. What a big dog. She probably eats children.
Trying not to think about what's in the lake, I join everyone for a swim. Although only separated from the ocean by a narrow strip of sand dunes and forest, the lake is not brackish and no soap suds or food particles gets on me. We wade and swim 100 meters from shore and it's still only a little over a meter deep (about four feet). I keep thinking about soap suds and food particles in the lake and about sunburn, so don't swim for long.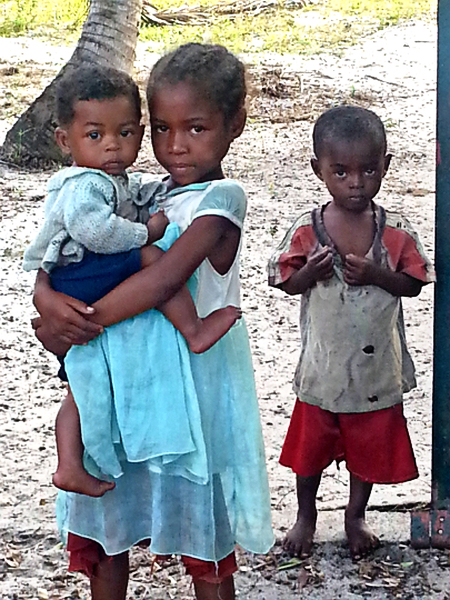 Holiday Weekend
Apparently, Manambato is a popular destination for holiday weekends. Pentecost, May 24th this year, is a national holiday in Madagascar and the Malagasy get the following Monday as a day off. All the bungalow resorts are full. On Sunday, right after dinner and our evening game of Spades, we hear the party begin. Music, drumming, and singing at the bungalows and vacation homes all up and down the beach. The party goes and goes until the sun starts to come up. They must have had a great party. We didn't have much sleep.