Vakôna Lodge in Andasibe, Madagascar has enough to do that you can fill a day or two before, after, or in between visiting Andasibe-Mantadia National Park. There's a swimming pool, walking trails, horse riding, canoeing, lemurs on islands, and crocodiles. We fill an afternoon and morning.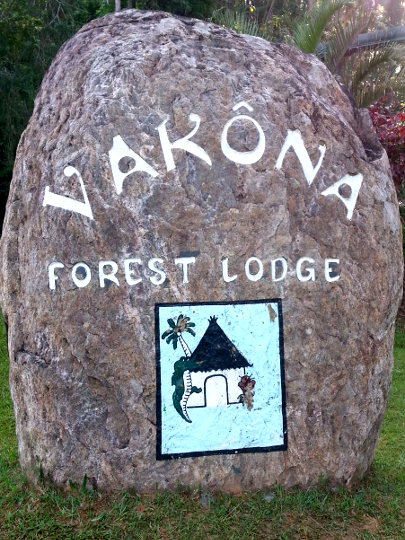 Vakôna Lodge is upscale. By upscale, I mean price, furnishings, dining, etc. A budget traveler would only stay here if they were taking a break from their budget. Sometimes it's nice to have air-conditioning (or heat), a private shower, a meal in a restaurant instead of from a stall on the side of the street, and other such luxuries.
We're staying here mostly because friends recommended it. I expect the remainder of our lodging on this trip to be on the budget side. On the map in our guidebook, Vakôna Lodge appears close to the parks and village. It's not really. It's close to Mantadia, but 20 minutes driving beyond Andasibe.
After the morning at Andasibe, exploring Vakôna Lodge is in order. We enjoy the gardens, and find a children's play area. Lori takes a walk on one of the trails. I go for a swim in the pool – unheated. So refreshing.
Overall a very nice stay. I note that although meals in the restaurant are quite good, I find the menu to be somewhat limited. Maybe because for me Vakôna's menu is too similar to those in the restaurants in Toamasina.
Lemur Islands
We rent a canoe in the morning and paddle around Vakôna Lodge's Lemur Islands. The local creek or river, I'm not sure which, has been impounded and forms a small lake. In the lake are a number of islands.
We stop at the first island and walk around. Looks to me like this is the only island they want visitors to stop at. There are quite a few lemurs here including common brown, gray bamboo, and black and white ruffed. They've already been fed but that doesn't stop them from following us around hoping for more. Sorry, don't have anything for you.
The next island has a few black and white ruffed lemurs on it. They too seem to be hoping we'll feed them.
A family of ring tail lemurs inhabit the third island. We come in close to the shore. A couple of them scramble out on a branch above us. They are intent on boarding. Lemur pirates. Back paddle.
There is some controversy over the Lemur Islands. Some people say Vakôna Lodge should not display captive lemurs since they don't keep them for conservation, restoration, or research but only as a tourist draw. On the other hand, they are providing a rescue service since all the lemurs they have were given to them, were previously in captivity, and some in not-so-good conditions.
Crocodile Reserve
After checking out of the hotel, we stop at Vakôna Lodge's Crocodile Reserve on the way out. There's a small visitor center and we can see a few crocodiles lounging in the sun on the other side of a tall rock wall surrounding their lake. They are huge. I appreciate the wall of separation.
A guide comes by after finishing up with a tour. If I understand right, there used to be a crocodile farm here but they found that it was too cold in Andasibe for them. The crocodile farm is now in Antananarivo. But the Reserve sells their crocodile eggs or hatchlings to the crocodile farm (I wasn't clear whether they incubated the eggs themselves before selling them).
We take the 45-minute, guided tour around the reserve. I notice a large crocodile swimming along with us in the lake as we walk the trail. This makes crossing the suspended bridge over the lake rather interesting. Our guide says the large ones are the females.
On the other side of the bridge, the guide shows us where they feed the crocodiles. So, maybe the crocodile tracking us is hoping we're bringing food to the feeding station, or maybe she's thinking we are the food.
Our guide points out a crocodile and says he doesn't like this one. He shows us scars on his hand and forearm. Several years back, a tourist in his group threw a plastic water bottle in the lake. He went over the rock wall to get it since eating the plastic could kill a crocodile. As he reached over the water to fetch the bottle, a crocodile grabbed his hand and started pulling him in. A quick thinking and quick reacting tourist in his group through a rock (or maybe several) and hit the crocodile in the head causing it to release the guide.
In addition to the crocodiles, there are Malagasy birds, tortoises, and fossa on display. The fossa were born in captivity at the Reserve. Fascinating animals. They look like a large cat (as in not quite as big as an American mountain lion), but are actually a relative of the mongoose.
We drive back out to RN2 and onward to Antsirabe.